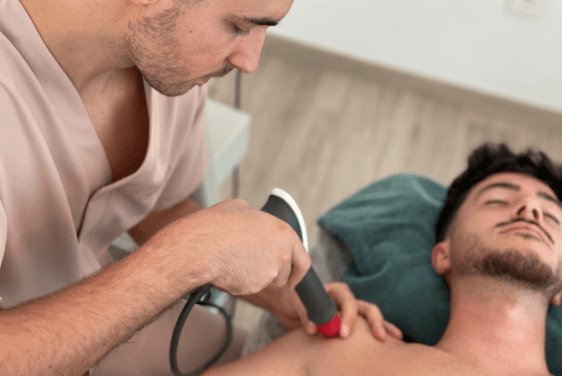 Treatment based on a mechanical-acoustic wave.
Shockwave treatment is based on the use of a mechanical-acoustic wave to deliver a significant amount of energy to pain points and musculoskeletal tissues. The aim of shockwave treatment is to eliminate pain as much as possible.
Once the primary pain point is located, shockwaves are applied, using slow circular movements: one of the main results is an increase in the production of collagen, which facilitates the regeneration of tissues and helps file off calcifications.
For the treatment to be successful, cooperation and coordination with the patient are essential. When the patient is able to communicate where the deep paint points are, the shockwaves can be applied to that exact place. When this is done successfully, this nonsurgical procedure is among those that promise the fastest recovery times.
How does the shockwave applicator work?
The energy transmitted promotes the regeneration and repair processes of tendons, muscles and other soft tissues. The kinetic energy of the projectile, generated by compressed air, is delivered to the transmitter at the end of the applicator, which generates waves that penetrate the tissue to file off calcifications and decrease inflammation and chronic pain.
The depth of the waves differs according to their nature: when the waves are radial, they reach depths of 5 centimeters; in the absence of focals, they reach much greater depths, of up to 12 centimeters.

Who is shockwave therapy best suited for?
In general, shockwaves are usually applied in the case of chronic pain, including shoulder and lumbar pain and tendinopathy. However, as noted above, they are also ideal for filing off calcifications, such as calcaneal spurs or calcific tendinitis.
This treatment does not take long to yield positive results; the production of collagen, the elimination of calcifications and the formation of new blood vessels will contribute to a better and faster recovery.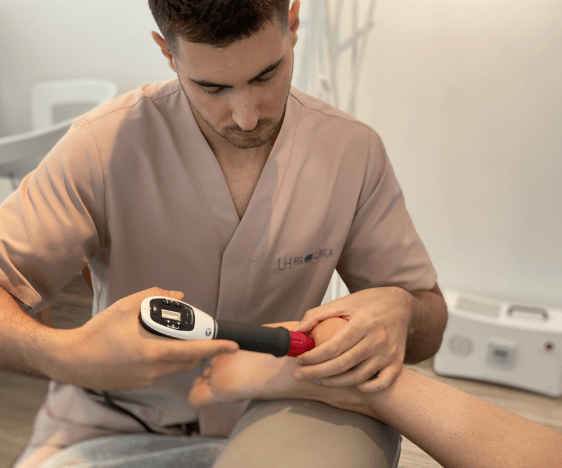 INDICATIONS
Calcific tendinitis (calcifications in tendons)

Tendinopathies

Bursitis

Trigger points